Perya Color Game is a pastime entertainment activity that every Filipino must have participated in. It is usually found in Perya games, set up in the Philippine Carnival. Sometimes, Perya will take place close to Holy Week in the Philippines. Perya is like an amusement park with many rides such as merry-go-round, swing rides, bumper cars and Ferris wheel, etc. 
Perya games can be considered short-lived, limited-time entertainment for Filipinos because they will be held for about a month. The game will be completely dismantled after the event. Perya games also have some fun booth games such as bingo, balloon darts, Piso game, Prize Wheels and basketball toss, and so on. For many people, the Perya Color Game is a test of luck, good guesses, and bad luck. If you are lucky, you will have a chance to win back the money you bet in the Color Game .



Don't forget to Register First!  

We would like to introduce you to some of the Perya games commonly seen at the Perya, carnival in the Philippines, and show you some tips and tricks to play them! Don't miss it!        
 
The Popular Perya Games
Perya Color Game is the Highlight
The Perya without color game is incomplete.     
Perya is like a circus, a carnival, a night market, where there are many game booths and food and drink. Almost all Filipinos can play perya games.
There are three dice in the perya color game. We all know that the dice have six sides, which are different colors: yellow, white, pink, blue, red and green. Therefore, the betting range is these colors. There are three cubes with the same colors on each side. Different game booths may have different colors, but most of them are based on these colors.
Now that you know what colors are available. You are ready to start betting on color game. You can choose any color that you think will appear later. The dice will then be hung on the colored game board, and the exciting part is that they are about to fall.
On the wooden frame, there's a rope attached to it and when you're ready, you'll pull it up and the cubes will go down, whatever combinations that will come out of the cube you'll get to win a prize if you place your bet on it.
If one of the colors you bet on comes up, you get to double your winnings. If both colors of your bet appear, you get triple the prize. If all three color dice come up in the color you bet on it's quadruple. This is one reason why perya color game is so appealing among Filipinos.
For Some Examples:
The results are yellow, green and red.    
"If you bet 100 dollars in yellow, you can win 100 dollars ."
| | | |
| --- | --- | --- |
| 100 - Yellow    |   |   |
| V    |   |   |
| V    | V    |   |
The results are yellow, yellow and green.    
"If you bet 100 dollars in yellow, you can win 200 dollars ."
| | | |
| --- | --- | --- |
| 100 - Yellow    |   |   |
| VV    |   |   |
| V    |   |   |
The results are all yellow.    
"If you bet 100 dollars in yellow, you can win 300 dollars ."
The goal of perya color game is to predict the color of three dice after rolling. It's like an open-and-shut case! What a happy time.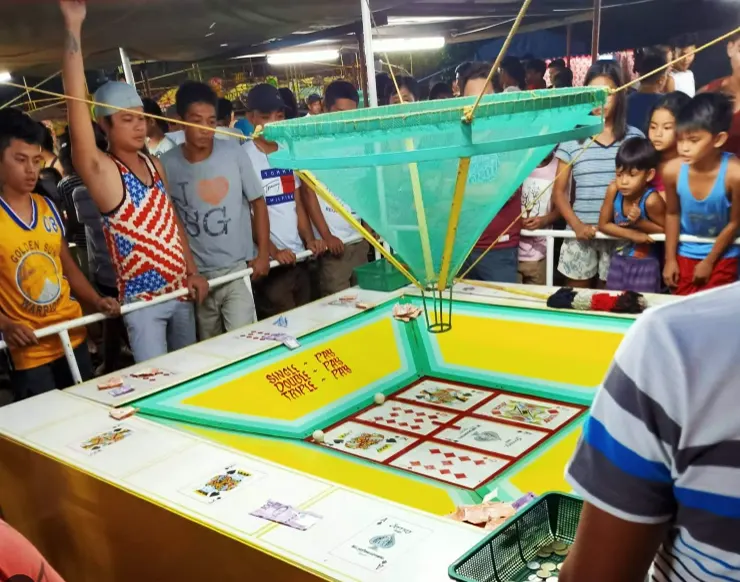 Perya Games 2 - Card Game
Card game is also known as drop ball or 3-balls, do you also think that card game needs to calculate the odds or requires some skills like blackjack? In fact, there is no skill required. Card game is not only a perya game with a similar name of the color game, but also similar rules. This is a popular game because you have the chance to win triple the prize.
There are six different cards in total: 9, 10, J, Q, K, A. Everyone can bet at the table. Three balls will fall from a funnel-like place! When the ball lands on the card you bet on, you win a prize!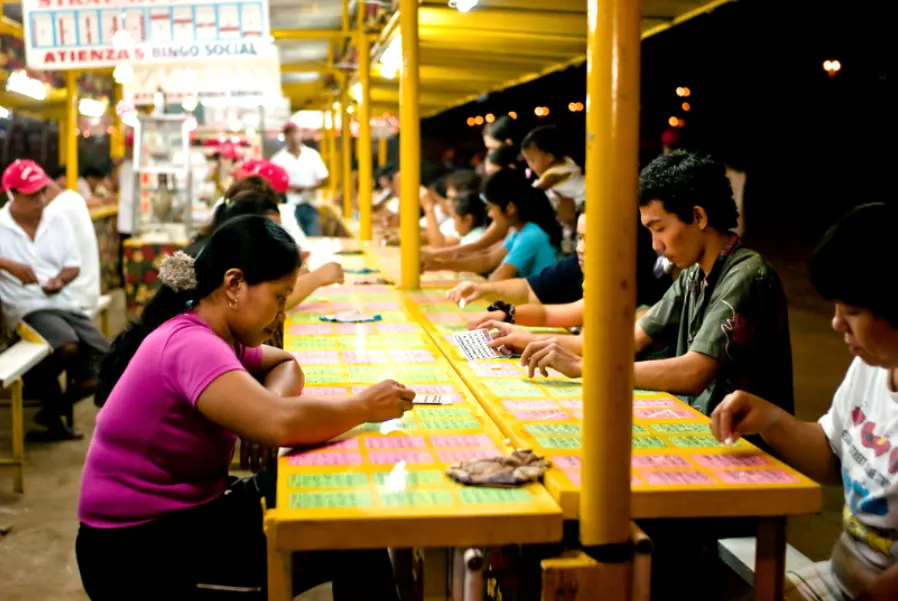 Perya Games 3 - BINGO
There is a very famous game called BINGO. While Perya Color Game is a game of color, Bingo is a game of numbers. It's actually a game of luck, in what numbers will be out of the "tambiola" from 1-75. And you need to form a certain formation to win – diagonal, box, vertical, horizontal. And if you do, you'd say or shout BINGO! It means that you won.      

Bingo is considered a fun social game that is popular all over the world. Like other popular forms of gambling, bingo is a game of chance. You don't need any skill or strategy, and this is one reason why it's huge in different parts of the world.
The only skill you need to master is "listening", especially when you're done listening to the game in a traditional bingo game. You need to listen carefully to the host's voice, who will randomly call numbers from 1 to 75. Once the number is called, the player marks the number on his ticket, and if the player forms some form - diagonal, box, vertical, or horizontal, then the player can shout "Bingo" to indicate that the bingo game has been won.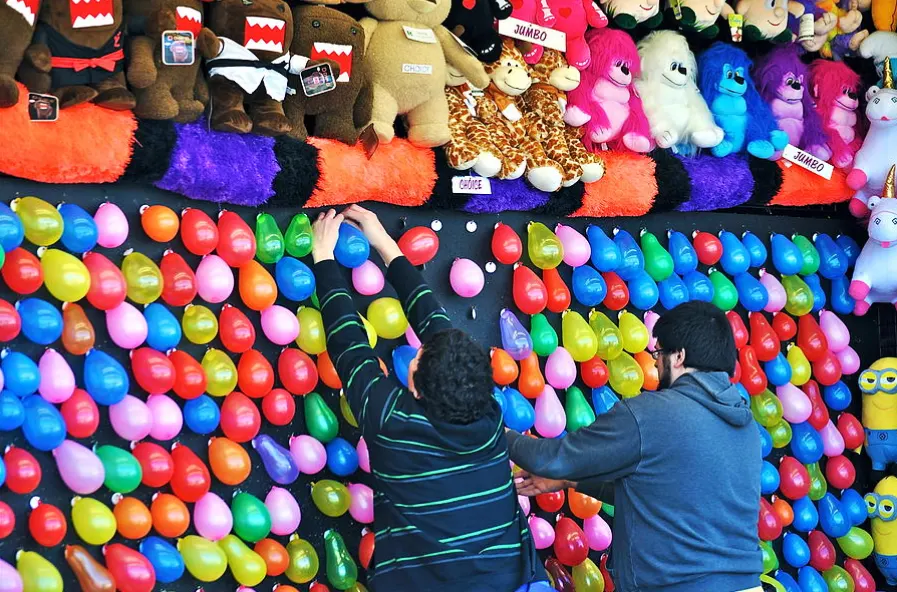 Perya Games 4 - Shoot the ball (balloon darts)
This perya game is especially fun because it's pretty easy to pop the balloons. Some people are so accurate in throwing the darts that they may be gifted, or they may be more fortunate than others. However, if you have a basic understanding of darts, you should master the principles of posture and practice. 
Players are given three darts for a chance to pop a balloon and win a prize! They win a top prize if they pop a balloon with the dart. There are many prizes, dolls, candy, cookies, drinks, etc. As long as you shoot enough balloons you will be able to exchange them for the prizes you want.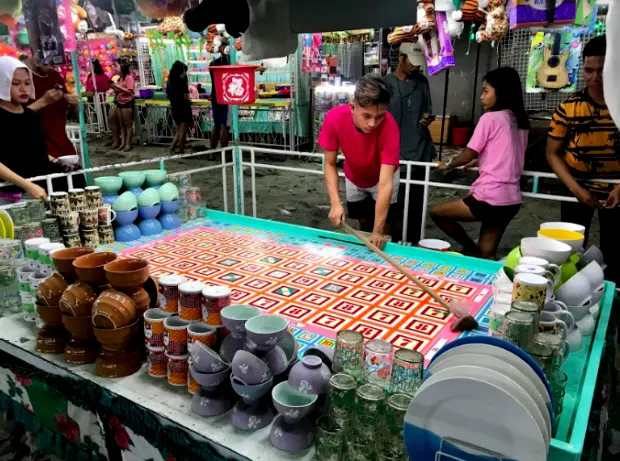 Perya Games 5 - Coin toss / Piso game
(Traditional Filipino Games)
Classic game booths like coin toss are still present in Perris today. You tossed a one-peso coin onto a table, it would land on a square space or out of range. Although the rules of the game are simple, play is not easy to win. 
The margins are wider so winning at the checkered table isn't as easy as it used to be. When you get a spot where there's a prize they will give it to you. Most prizes are like glass, cups, plates, beverages, cans, toys, or cookies.
Play Perya Games at Online Casino in the Philippines
Stuck at home due to the pandemic and wishing you could go out to play perya games? Missing the thrill and fun you used to have there? Playing games online has become more popular since Pandemic. Due to technological advances, online casinos have completely changed. 
It has grown to be one of the most popular places people spend most of their leisure time. You can play these games online at home in your pajamas without formal attire. Many players from different worlds log on to online casinos each day to play. You can come to Nustabet to play the games you are familiar with now!
★ PLAY COLOR GAME ONLINE NOW ★ 
Don't forget to Register First!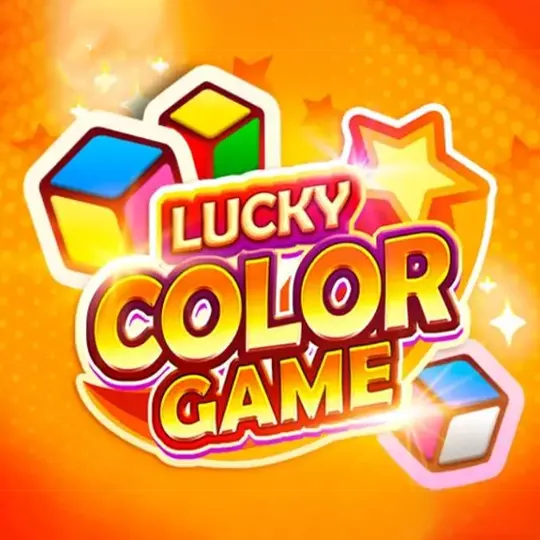 Perya Games Online 1 - Lucky Color Game
You can choose your lucky color, grab the big win. Perya Color Game would make no less of a difference than playing at the actual perya. When the Bet time is over, the game will commence and 3 dice will be roped. The odds are calculated and paid out based on the number of times various colors have appeared. We offer better odds.
A set of 3 dice with identical colors will be designated for each game. When the designated combination appears and if the colors of the player's Bet match the corresponding colors, the player will trigger the LUCKY BINGO. The Odds are calculated and paid out based on the number of times various colors have appeared:
| | |
| --- | --- |
| Number of times  | Odds |
| 1 | X2 |
| 2 | X3 |
| 3 | X9 |

Perya Games Online 2 - E BINGO
E Bingo Game Rules     
You can buy 1~16 bingo cards per game, the more you buy, the higher the chance you win.
If you complete any of the pay lines in the chart, you will receive the corresponding payout.
Once the prize line is completely covered by a prize line with higher odds, the prize with the highest odds will be taken.
The odds are calculated based on the unit price of the bingo card.
After 30 balls have been played, additional balls can be purchased if the amount and number of ready hands reaches a certain level.
A maximum of 9 additional balls can be purchased, and the payment amount of each purchase will vary according to the money amount of ready hands achieved.
→ Do you know what is Mega Ball Bingo ?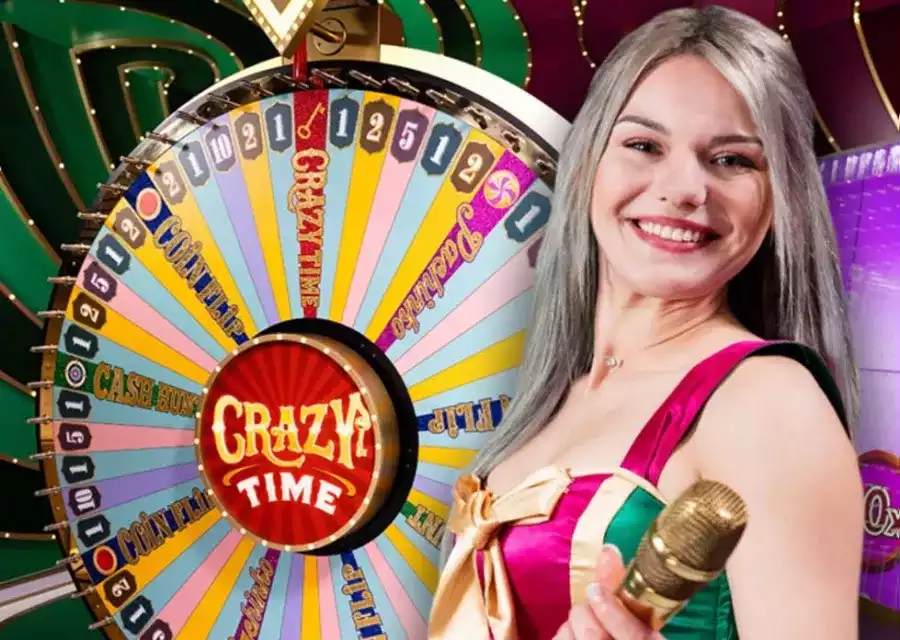 Perya Games Online 3 - Crazy Time
If you are a player who hates a long list of game rules (such as poker or something like that), then Crazy Time casino game, as simple as color game at perya, will be just for you. You don't have to worry about cheating, because this is a live game. You will see a person standing next to a large spinning wheel.
Crazy Time is an exciting game show and variation of the popular money wheel game of chance that is played using a large 54-segmet vertical wheel, spun by the game presenter. In addition, a multiplier will be randomly assigned to every spin of the wheel. The objective of the game is to predict the segment the wheel is going to stop at when the wheel comes to rest after the spin. Crazy Time also features amazing Bonus games which will grant multipliers for you! Simply place your bet on the Cash Hunt, Pachinko, Coin Flip and Crazy Time Bonus game bet spots and watch as the multipliers won in Bonus games multiply your winnings! Win CRAZY big!
Crazy Time Game Rules     
Simply place your bet on a segment you believe the wheel will stop at: use the number segment bet sports 1, 2, 5, 10, or the Bonus game bet spots — Cash Hunt, Pachinko, Coin Flip and Crazy Time. When the betting time is over, the game presenter will spin the wheel and, simultaneously with the spin of the wheel, a two-reel Top Slot mini game will start, displayed on a TV screen above the main game wheel. Each round the Top Slot will determine one random multiplier for one random bet spot - either a number or Bonus. If a bet spot and multiplier align on a horizontal line in the middle of the Top Slot, it is a match. The particular multiplier is assigned to the corresponding bet spot and is applicable for the current game round. If the bet spot does not align horizontally with the multiplier, the game will proceed without the Top Slot multiplier. 
Crazy Time is available to play right now at Nustabet Gaming!                    
Conclusion - Perya Games 
People enjoy gambling for a number of different reasons. Some people find the adrenaline rush associated with gambling to be addictive, while others simply enjoy the excitement of betting on different outcomes. Some people also think that playing casino games can reduce their stress, especially if they've had a bad day. And finally, many people simply enjoy the thrill of winning money.
In the Philippine Carnival party you can play any perya games you like, such as perya color game, E Bingo, card games and so on. However, you can also play these games on online gaming sites. In addition to taking you into your childhood memories, these games can also allow you to earn wealth here.
All perya games are fond memories of childhood, so you also know a little about the rules. Some small games will add some rules to increase your chance of winning. When you choose the game, you are also enjoying the joy that the game brings to you.
Whether you choose to travel to the Philippines or stay at home, online casino has made it easy to experience the perya games online.
Sign up now to join the entertainment city!   
Let you reminisce about your childhood, and have the opportunity to increase your wealth .