Monopoly Live from Evolution Gaming has been all the rage at live casinos. It's a live game show that combines everything you love from Dream Catcher and the classic board game, along with some extra virtual reality features. With a license from Hasbro, Evolution has really worked with the elements from the famous board game while adding awesome features to deliver a truly innovative yet familiar gaming experience.
Since the game's release in February 2019, Monopoly Live quickly garnered top industry awards, including Game of the Year 2019 from EGR, and then Game of the Year 2020 from Gaming Intelligence.
We had an amazing time exploring the thrilling Monopoly Live at Monopoly Live Casino. Allow us to share the incredible special features and the exceptional gameplay that has players raving about this Evolution title.
Monopoly Live Bonus Round Features of Monopoly Live Casino
Evolution Gaming's Monopoly Live at Monopoly Live Casino offers more than just the Money Wheel. What truly sets Monopoly Live apart is the array of captivating bonus features that are activated when the wheel lands on the non-numbered slots. These exclusive features make Monopoly Live at Monopoly Live Casino a truly special and immersive gaming experience. These features include:
Chance:
Although technically not in the bonus round, it's still a bonus. If the Wheel stops on Chance, you will receive a surprise cash prize or multiplier.
2 Rolls:
When the Wheel lands on 2 Rolls or 4 Rolls, the Monopoly board will appear. It's a 3D augmented reality board that starts with a Zepellin plane that contains two dice. Using classic Monopoly elements like Go, Mr. Monopoly will walk across the board to collect cash prizes and multipliers for you. Community The dice will be rolled twice - once Mr. Monopoly has completed the first walk, the dice will be rolled again.
4 Rolls:
As with 2 Rolls, but this time you get 4 dice rolls, which means Mr. Monopoly walks across the board 4 times. A maximum payout of half a million dollars is possible with four dice rolls and the many possibilities on the board itself.
Monopoly Live Casino Tips and Strategies
✔ Our recommendation is to always place a bet on 2 Rolls or 4 Rolls. You can only participate in the bonus round if you placed a bet on these two slots. You will only be able to watch other players play if you do not play yourself.
✔ Is it worth betting on the number 1 slot machine at Monopoly Live Casino? Number 1 only yields a return on your bet for number 1 itself. It doesn't add up if you consistently bet on 2 Rolls or 4 Rolls. Of course, it's better than getting nothing at all. However, if your strategy involves hedging your bets on lower numbers since they appear more frequently, betting on number 2 will at least cover your bets on numbers 1 and 2 Rolls or 4 Rolls. That being said, there is no guarantee in reality.
✔ When playing Monopoly Live at Monopoly Live Casino, it's essential to manage your bankroll wisely. The bonus game may not activate until the Money Wheel lands on 2 Rolls or 4 Rolls as with any game of chance. Therefore, you should determine your affordable limits and adjust your gameplay pace accordingly.
| | |
| --- | --- |
| | Monopoly Live is a game of luck, and as with any other game of luck, there aren't any strategies or guarantees. As a result, we have some tips for playing this game. |
Limits on Monopoly Live Bets
The minimum bet size for Monopoly Live is just 10 cents. This is a live game that those on a budget can easily enjoy without worrying about their bankroll. However, high rollers are also well-catered. As with live casino games in general, the maximum bet per spin is $1,000.
Monopoly offers the following bet sizes:
> $0.10
> $0.50
> $1
> $2
> $5
> $25
> $500
> $1,000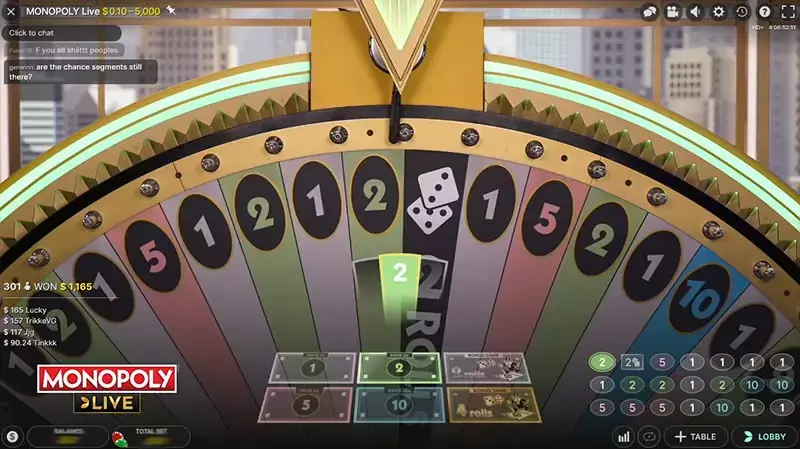 Bonus Tip: In Monopoly Live at Monopoly Live Casino, the activated bonus round with 2-reel or 4-reel can offer a maximum payout of $500,000. Keep in mind that the maximum bet allowed on these two bonus slot machines is $500.
Features of Monopoly Live Chat and Multiplayer

Monopoly Live at Monopoly Live Casino is a multiplayer game that includes a built-in chat feature, allowing players to communicate with each other. While players are not directly competing against each other, they are playing alongside each other. In theory, everyone in the round could place the same bets and win the same amounts, although it's common for players to bet differently. Overall, this non-competitive environment fosters a friendly atmosphere for chatting and interacting with fellow players in Monopoly Live at Monopoly Live Casino.
Is Monopoly Live a fair and licensed game?
The most trusted and established developer of live casino games is Evolution Gaming. Evolution's games, including Monopoly Live, are licensed by some of the world's strictest gambling regulators:
| | | |
| --- | --- | --- |
| MGA Malta | Alderney Gambling Control Commission (AGSS) | UK Gambling Commission |
Furthermore, Evolution has the blessing of Hasbro in developing this game. The original Monopoly board game was made by Hasbro, the famous board game company. Wow, that's amazing!
Is Monopoly Live available in Demo mode?
Demo versions of live games are not available and can only be played with real money. While Evolution Gaming has developed hyper-realistic computer simulations for some of its games, including Blackjack, Roulette, and simpler game shows such as Dream Catcher and Mega Ball, these are not available for Monopoly Live.
With a minimum bet of just 10 cents, it is very affordable, especially if you have a casino bonus.
Monopoly Live Expert Conclusion
Monopoly Live, a captivating live game show by Evolution Gaming, brilliantly reinvents the classic Monopoly board game. In this remarkable format, resembling the Dream Catcher wheel, players are transported into an awe-inspiring augmented reality representation of the Monopoly world.
Immersed in a visually stunning 3D rendering, participants encounter the iconic Monopoly board, along with meticulously crafted elements such as hotels and houses. Thanks to Evolution Gaming's partnership with Hasbro, Monopoly Live brings forth all the beloved features of the original board game, and perhaps even surpasses them. This thrilling experience can be enjoyed at the Monopoly Live Casino.

No prior knowledge of rules is necessary to play Monopoly Live, as it is a straightforward and easily accessible game. Additionally, the visuals are breathtaking, making the experience truly immersive. Monopoly Live, available at the Monopoly Live Casino, is definitely a must-try, with minimum bets starting from just 10 cents.